2020 Citizens State Bank Scholarship Winner
FOR IMMEDIATE RELEASE
Contact: Leah Driver, ldriver@townfin.com / 765-529-5450 ext. 7749
Citizens State Bank Announces Scholarship Winner
NEW CASTLE, IN, June 25, 2020: Citizens State Bank is pleased to announce the winner of the 2020 Citizens State Bank Scholarship is Ms. Cloie G. York of New Castle.
Ms. York is an impressive young woman, both in and out of the classroom. She was Captain of the Girls' Basketball and Soccer teams, Class Treasurer in Student Government, Renaissance Secretary, an Achievement Day Crest Winner, winner of the Linda Stairs Mental Attitude award, member of the unified track team, and National Honor Society. She attends Memorial Wesleyan Church, where she is quite active with the youth group and children's ministry. All of this is in addition to her job at the YMCA.
Cloie will be attending Taylor University, where she will major in Social Work. Her plans include returning to New Castle to pursue a career in Social Work and Counseling, working primarily with women and children. We wish her well, and are honored to contribute, even in a small way, to her success.
About Citizens State Bank
Citizens State Bank is locally-owned and has offered a full range of financial services in Central Indiana since 1873. Our mission is to help our clients, co-workers, and communities succeed. We are dedicated bankers who live and invest in the communities we serve. To learn more, stop by one of our banking center locations, call 888-529-5450, or visit www.mycsbin.com.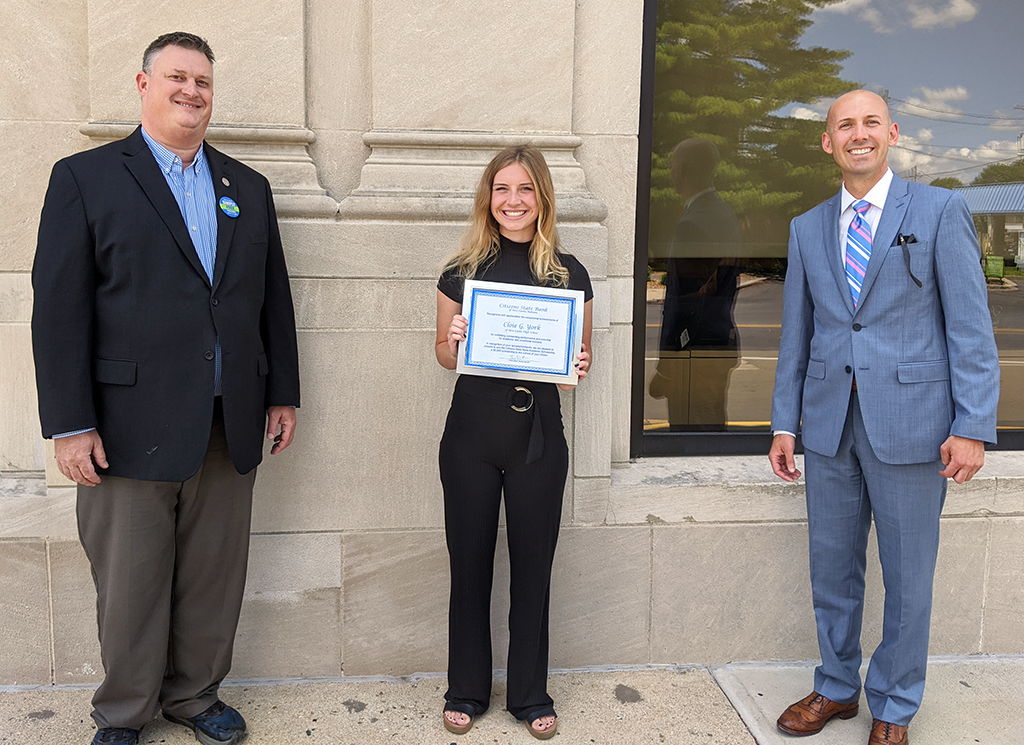 Presenting Ms. York with her award are Kirby Purciful and Dan Maddox.