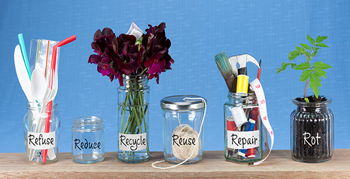 America Recycles Day
While this is a day dedicated to recycling, in some of our smaller communities that's not always easy to do. Don't let that stop you - there are a lot of easy things you can do to make an environmental impact.
Often the steps you take to be more "environmentally friendly" will benefit you directly.
Use energy-saving light bulbs. If every household in the US replaced just one regular light bulb with an energy-saving model, we could reduce global warming pollution by more than 90 billion pounds over the life of the bulbs. You'll also save money on your electric bills and light bulbs - a true win/win!


Cut back on the amount of paper in your life. Currently, 40% of the world's commercially cut timber is used for paper. Here are a few things you can do right now that will not only save paper, but will help protect you from identity fraud:



Enroll in e-Statements with your bank. (If you're a Citizens client, sign up here.)
Request e-Bills or paperless billing. Receiving your monthly bills via email instead of "snail mail" is more secure, is less likely to be lost, and can help you stay organized.
Join the Do Not Mail service to cut down on the amount of "junk mail" you receive.
Register to opt-out of preapproved credit offers for five years or permanently.

Bag it yourself. Whenever you shop, take reusable bags with you instead of using plastic bags. Many retailers (including Kroger, Ralphs, Trader Joe's, and Target) will give you credit for each reusable bag while others (Ikea and Aldi are two) will charge you to use their bags. Don't have reusable bags? Visit any CSB location to receive one of our infamous green bags.


Fix or borrow instead of buy. While it's sometimes necessary to replace items, many times you can repair broken items for less money than buying a replacement. If you're thinking of buying an item you won't use very often, consider borrowing from a friend or even renting from a local vendor.


Buy used instead of new. Not only is vintage "in," you'll almost always save money when buying used. (Best of all, it's hard to beat the thrill of finding a good bargain.) If you compare the cost of buying a new vs pre-owned vehicle, you'll be amazed at how much you can save, especially if you're financing.


Buy local. You'll not only help the environment, you'll likely pay less and your purchase will benefit your entire community.