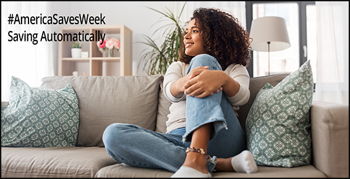 America Saves Week - Day 1
The most simple and effective way to save is to set up an automatic savings plan.
Whether you're splitting your direct deposit and funneling a portion of your paycheck into savings, or you set up an automatic transfer through your financial institution, but utilizing automatic savings you are confidently building a healthy habit of saving.
"Saving is a habit, not a destination." Automatic savings is one way to easily build that habit.

If you need help setting up an automatic savings plan, give us a call. One of our bankers will be happy to help!