Announcing the 2021 Citizens State Bank Scholarship Winner
For Immediate Release

Contact: Leah Driver, 888-529-5450, ext 7749
Citizens State Bank Announces Scholarship Winner
NEW CASTLE, IN, June 17, 2021: Citizens State Bank is pleased to announce the winner of the 2021 Citizens State Bank Scholarship is Ms. Danielle M. Cameron of Rushville.
Ms. Cameron is an inspirational young woman, both in and out of the classroom. She's active in her community, volunteering time to the Rushville FFA, Live by the Levee Concert Series, SPARC Walk, and Mayoral Campaign. She was also selected to serve on the Stellar Youth Committee. Her personal and academic achievements stood out in a group of outstanding applicants.
Danielle is majoring in Industrial/Organizational Psychology at Indiana University East. She hopes to one day earn both her Masters and a PhD in this field. We wish her well, and feel honored to help support her success.
About Citizens State Bank
Citizens State Bank is locally-owned and has offered a full range of financial services in Central Indiana since 1873. Our mission is to help our clients, co-workers, and communities succeed. We are dedicated bankers who live and invest in the communities we serve. To learn more, stop by one of our banking center locations, call 888-529-5450, or visit www.mycsbin.com.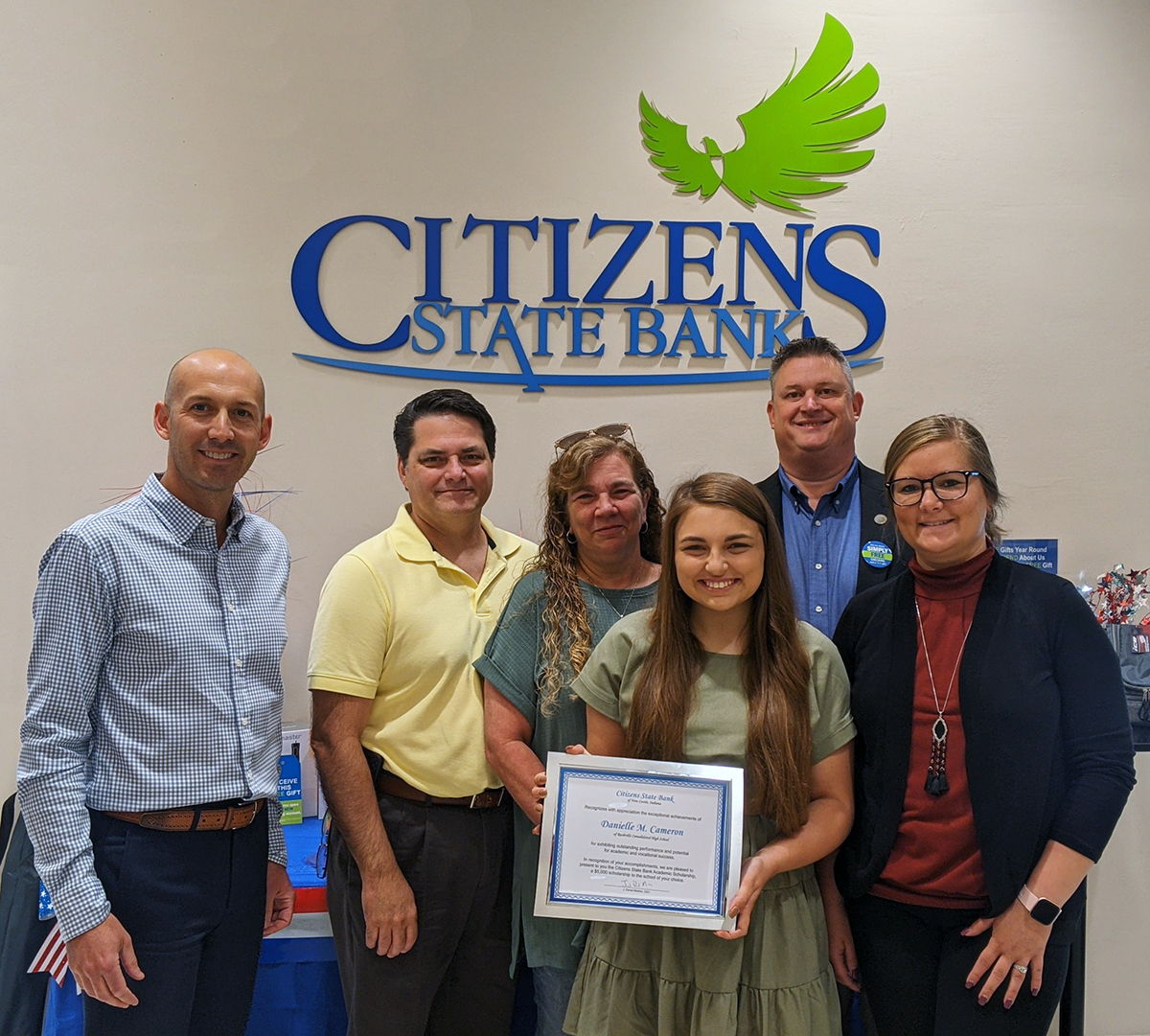 Pictured, left - right: Dan Maddox, CEO; Gary and Amie Cameron, Danielle Cameron; Kirby Purciful, President; Samantha Yarbrough, Rushville Banking Center Manager