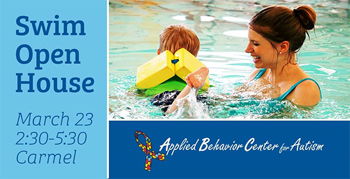 Date: Mar 23, 2019
Time: 2:30 to 5:30 pm
Location: Carmel
sign up
Carmel Swim Open House
Kick off your spring break with some swimming at our Carmel indoor pool on Saturday, March 23 from 2:30-5:30 PM!
Our pool will be open and swimming will be available to children and their families. We'll also have staff on hand to give tours of our Carmel center and talk about our programming for children with autism.
Please note that all swimmers must be potty-trained and have an adult with them in the pool. Pool space is limited to 10 kids/hour.