A Cash Flow Projection is a financial statement that shows how cash is expected to flow in and out of a business (cash flow). It's used to see if projected cash receipts (cash in) will be sufficient to cover projected disbursements (cash out). A business can be profitable and still run out of cash, so your Cash Flow Projection can help identify liquidity issues before they happen so you can keep the doors of your business open, even if you're in the middle of a "cash crunch."

A company's Cash Flow Projection is a great tool for setting goals and planning for expenses. It's a good way to prepare and plan for your financing needs - for example if you're planning for a large expenditure like a relocation or equipment purchase - and is often a required part of a business loan application. Similarly, if you have a seasonal business a Cash Flow Projection can help you ensure you'll have the cash on hand to make large inventory investments when you need it.
While a Profit & Loss Statement can mask cash shortages if you use accrual accounting, a Cash Flow Projection helps you see the cash status of your business now and plan for the future.

Cash Flow Projection Sample
Here's a sample Cash Flow Projection. You'll see the first set of rows document all sources of incoming cash. The second section, Operating Uses of Cash, contains expenditures that typically show up on your Profit & Loss Statement. The last section, Non-Operating Uses of Cash, normally show up on your Balance Sheet - loan payments, equipment purchases, etc.

To determine your cash on hand, subtract your Total Uses of Cash from your Total Cash Available. Your Ending Cash balance becomes the Opening Cash balance for the following month.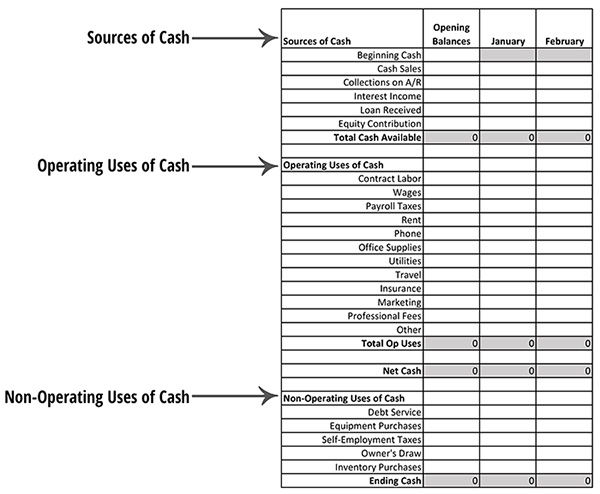 There are many strategies to increase your cash flow, including:

Increasing sales
Increasing price
Reducing expenses
Saving money to start the month with more Opening Cash
Reduce, or change the timing of, the owner's draw
Obtain credit
Having a handle on your cash flow is just as important as understanding your Profit & Loss Statement, which is why your Cash Flow Projection is an important document to monitor closely. (To emphasize - even a profitable business can experience cash shortages, so it's important to plan ahead to ensure you have sufficient cash on hand to cover your company's operating activities.)

Have Questions?
If you have questions about your Cash Flow Projections or cash management in general, give us a call. Our skilled Relationship Managers will be happy to help you determine if you're on track or need to make some adjustments.

The views, information, or opinions expressed in this article are solely those of the author and do not necessarily represent the views of Citizens State Bank and its affiliates, and Citizens State Bank is not responsible for and does not verify the accuracy of any information contained in this article or items hyperlinked within. This is for informational purposes and is no way intended to provide legal advice.