Citizens State Bank Announces Scholarship Winner
FOR IMMEDIATE RELEASE
Contact: Leah Driver, ldriver@mycsbin.com / 888-529-5450 ext. 7749
Citizens State Bank Announces Scholarship Winner
NEW CASTLE, IN, June 22, 2022: Citizens State Bank is pleased to announce the winner of the 2022 Citizens State Bank Scholarship is Ms. Lyndsee Mills of Union City.
Ms. Mills is an inspirational young woman, both in and out of the classroom. She's active in her community, volunteering time to a variety of organizations and events like Community Thanksgiving, Corner Cupboard, the Food Pantry, and more. She's been just as active at school, participating in several extracurricular activities while maintaining her GPA. Her personal and academic achievements stood out in a group of outstanding applicants.
Lyndsee plans to double major in Early Childhood Education and Early Childhood Special Education at Ball State University. We wish her well, and feel honored to help support her success.
About Citizens State Bank
Citizens State Bank is a fourth-generation family-owned community bank and has offered a full range of financial services in central Indiana since 1873. Our mission is to help our clients, co-workers, and communities succeed. Decisions are made locally. Deposits made with us stay in our communities, becoming funds for the loans and donations that fuel economic development. Discover the difference a local bank can make. To learn more, stop by one of our banking center locations, call 888-529-5450, or visit www.mycsbin.com.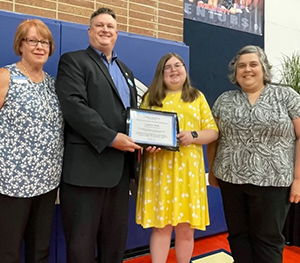 Beverly Lenkensdofer, Banking Center Manager;
Kirby Purciful, President; Lyndsee Mills;
Hazel Hindsley, Assistant Banking Center Manager