Citizens State Bank Named a Five Star Member of the IBA
NEWS RELEASE
Contact: Leah Driver, Marketing Manager
ldriver@mycsbin.com / 888-529-5450 ext. 7149
FOR IMMEDIATE RELEASE
Citizens State Bank Named a Five Star Member of the IBA
NEW CASTLE, IN, April 2022: Citizens State Bank has been honored as a Five Star Member of the Indiana Bankers Association (IBA). The award was presented on April 25 by Josh Myers, IBA Vice President - Member Engagement, in recognition of Citizens' IBA involvement throughout 2021.
The Five Star Member designation recognizes those IBA-member banks which demonstrate outstanding commitment to the Association in five areas: political awareness, issues advocacy, life-long learning, IBA volunteerism, and Preferred Service Provider utilization.
"We very much appreciate the dedication of Citizens State Bank as a Five Star Member bank," said Amber Van Til, IBA president and CEO. "Our Association is strong, thanks to our supportive members."
The Indiana Bankers Association supports Indiana banking through issues analysis, professional education, and products and services that enhance member banks' ability to serve their communities.
About Citizens State Bank
Citizens State Bank is a fourth-generation family-owned community bank and has offered a full range of financial services in central Indiana since 1873. Our mission is to help our clients, co-workers, and communities succeed. Decisions are made locally. Deposits made with us stay in our communities, becoming funds for the loans and donations that fuel economic development. Discover the difference a local bank can make. To learn more, stop by one of our banking center locations, call 888-529-5450, or visit www.mycsbin.com.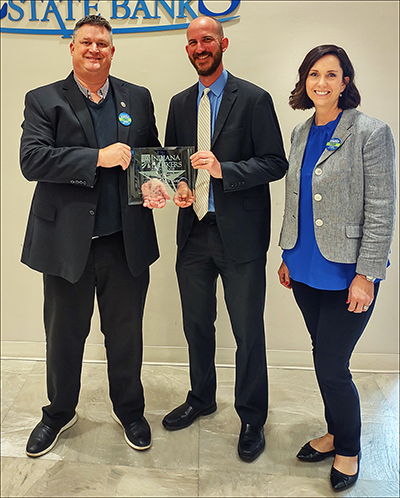 Displaying Citizens' Five Star Member award from the IBA are (from left): Kirby Purciful, President; Josh Myers, IBA VP - Member Engagement; and Nicole Murphy, Nicole Murphy MBA, SHRM-CP, Chief People Officer