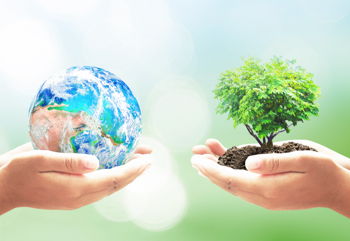 Earth Day 2021
Home Projects for Earth Day
Switch to LED light bulbs. This one change will save both money and energy.
Fix leaky faucets in your home.
Conduct a full-home energy assessment to check for air leaks and other ways you might be able to save energy and money.

Start composting to use kitchen scraps and add nutrients to the soil.
Plant an organic garden and perennial flower beds.

If local ordinances allow it, use a rain barrel to collect water for your lawn and garden.
Cut back on driving. Try walking, biking, or taking public transportation more often. Start a carpool with co-workers, friends, and neighbors.
Start using earth-friendly cleaning solutions in place of commercial products.
Shop local. You're not only supporting your local community, but also saving transportation energy.
Take reusable bags to the store - keep them in your car so they're always handy. (We'll be glad to give you one of our infamous green bags.)
Organize a regular litter pick up with your family and friends. Recycle "trash" items when possible.