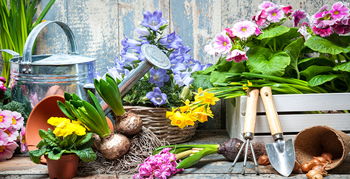 First Day of Spring
It might not feel quite like spring, but that's okay - spring is in the air! Here are a few activities to help get you in the mood:
Start your spring cleaning before it gets too nice to stay inside.

Play a sport - or decide on a sport you'd like to play with friends and families when the weather allows. Baseball, pickleball, badminton, tennis - there's something for everyone!
Volunteer. Maybe playing sports aren't your thing, but perhaps your local Miracle League can use some volunteers.

Dig out your patio furniture and kids' outdoor toys.
Plan a garden and make sure you have the supplies you need to make it happen.
Gather your bird feeders and get them ready for a new feeding season. (Be sure to start with a good scrubbing!)

Lay out a walking route around your neighborhood to use as soon as the weather allows.
Plan a trip - even if it's a day trip to a local park. You're more likely to follow through when your plans are already made.

Find your picnic supplies and put them in your car - you never know when a picnic opportunity will present itself!
When's the last time you rode a bike? Maybe this is the year to make that happen.