Indiana Basketball Hall of Fame
In Indiana, basketball isn't simply a game – it's a tradition, passion, and part of our culture.
The Indiana Basketball Hall of Fame in New Castle celebrates the proud heritage of basketball in our state from its origins in the 1890s to the current season.
A visit to our 14,000 square foot museum features not only the men, women, and teams that have brought recognition to themselves, their communities and schools, but a number of interactive exhibits that will bring you closer to the action of Indiana high school basketball!
Our courtyard contains more than 6,000 engraved bricks with the names of the teams, coaches, players, and others who have been a part of "Indiana's Game." The bricks are arranged in the shape of the state of Indiana. Also take note of the flags representing teams who have had recent postseason success.
Begin your tour with an introductory film in the Danielson Theater and find photos and memorabilia of all previous state championship teams as you wind down our ramp, designed to replicate those at historic Butler "Hinkle" Fieldhouse.
On the main exhibition floor you will find special sections dedicated to John Wooden, Oscar Robertson, Larry Bird, and the 1954 Milan Indians as well as the jerseys, trophies, photos, and memorabilia of other Hoosier legends.
Interactive displays allow you to take the Game Winning Shot, display your Indiana basketball knowledge on our trivia game, become a sportscaster on "You Make the Call", or attempt to block the shot of Oscar Robertson and Stephanie White.
No trip is complete without a visit to the enshrinement hall, where each of our inductees are permanently honored, you can visit the John Jordan Library to research basketball history on over 1,000 Indiana high schools, and videos including archived game films are available to watch upon request.
Our Gift Shop is stocked with items to take as a memento of your visit or to share with those who couldn't visit with you.
Even the most veteran basketball fan hasn't grasped the full extent of "Hoosier Hysteria" until they've seen, heard, and stood amongst the legendary and unique surroundings that can only be found at the Indiana Basketball Hall of Fame!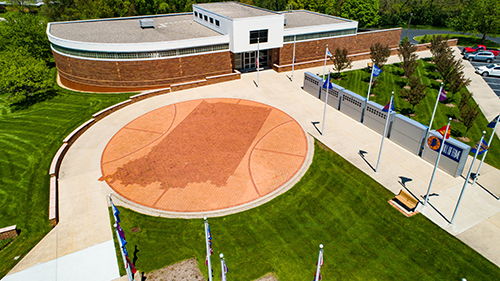 Indiana Basketball Hall of Fame
One Hall of Fame Court
New Castle, IN 47362
Office: 765-529-1891 Email: info@hoopshall.com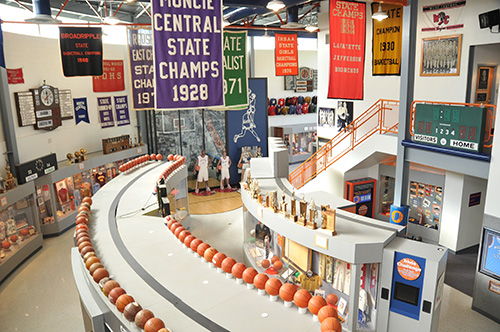 If you'd like to submit information about your volunteer, non-profit, or charitable organization for the Community Spotlight, please read this or email Leah Driver.
The views, information, or opinions expressed in this article are solely those of the author and do not necessarily represent the views of Citizens State Bank and its affiliates, and Citizens State Bank is not responsible for and does not verify the accuracy of any information contained in this article or items hyperlinked within. This is for informational purposes and is no way intended to provide legal advice or an endorsement of the organization highlighted.