When most of us think about making a deposit, the first thing that comes to mind is a trip to the bank. However, there are other options that can be more convenient, including:

Mobile Banking – Deposit checks using a mobile banking app. It's easy – you enter the amount of the check, take a photo of the front and back of the check, then hit "Submit." You'll be notified immediately if there's a problem, and the amount will be credited as if you made an in-person deposit.
Night Deposit Box/Night Drop – Have you ever wondered what the small doors are on the outside of most banks? They're called night drops, or night deposit boxes, and you can use them to deposit either cash or checks. All you need to do is fill out a deposit slip, endorse your check(s), place your deposit in an envelope, and drop it in the slot. (An envelope isn't required, but we recommend it.) Your deposit will be entered the next business morning and credited accordingly.
Online Banking – While you can't make a cash or check deposit using online banking, you can transfer funds to and from your account.
Remote Deposit Capture (RDC) – Many businesses use Remote Deposit Capture to deposit customer checks. Swipe a check through a RDC machine, and the information is transmitted to the bank. RDC is very similar to making a Mobile Check Deposit.
Mail – You can mail endorsed checks or cash with a deposit slip to the bank, though we would not recommend this as a secure method. If you're ever tempted to mail a deposit, drop your envelope in the night drop instead.
In Person – You can make cash and check deposits, as well as transfers, at a bank location.

Account Deposit Options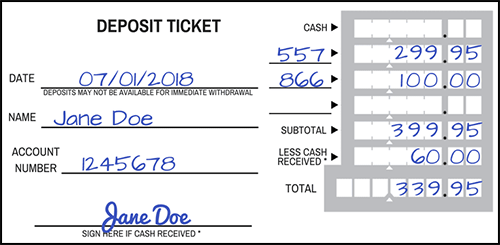 Sample Completed Deposit Slip

No matter how you make your deposit, it's a good idea to be familiar with your bank's Funds Availability Policy (when the funds are available for you to sped) to ensure you understand when the funds will be credited to your account. If you have any questions about your bank's Funds Availability Policy, you should give them a call or check their website.
The views, information, or opinions expressed in this article are solely those of the author and do not necessarily represent the views of Citizens State Bank and its affiliates, and Citizens State Bank is not responsible for and does not verify the accuracy of any information contained in this article or items hyperlinked within. This is for informational purposes and is no way intended to provide legal advice.