Matt Patterson Named Top Lender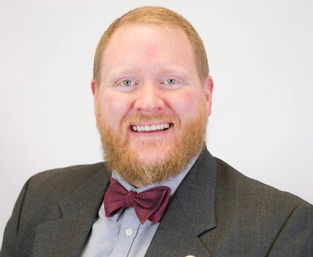 NEWS RELEASE
Contact: Leah Driver, ldriver@townfin.com / 765-529-5450 ext. 7155
FOR IMMEDIATE RELEASE
Matt Patterson Named Top Lender
NEW CASTLE, IN, February 6, 2019: Citizens State Bank is pleased to announce that Commercial Relationship Manager Matt Patterson was recognized as a Top Lender for Premier Capital for 2018. Premier Capital is a private, not-for-profit Certified Development Company (CDC) that is authorized by the Small Business Administration (SBA) to administer the SBA 504 Program for projects in the states of Indiana and Kentucky. The 504 Program is a way for borrowers to access permanent financing for the purchase of real estate through the SBA. This is a natural partnership for our mission of helping our clients, co-workers, and communities succeed.
Matt's a lifelong Hamilton County resident, and graduated from HSE in 1998. He earned his Bachelor's Degree from Hanover College, and his Master's Degree from Moody Bible Institute in Chicago. He's a recent graduate of the Hamilton County Leadership Academy, and has more than 16 years of banking experience. Dan Maddox, President and CEO, says "We are so proud of the great job Matt is doing, and pleased that he's receiving outside recognition for his hard work."
If you're in the Fishers area, please stop by to congratulate Matt.
About Citizens State Bank
Citizens State Bank is a fourth-generation family-owned community bank. Our mission is to help our clients, co-workers, and communities succeed, and we strive to live that mission every single day. We have offered a full range of financial services in central Indiana since 1873. We are dedicated bankers who live and invest in the communities we serve. To learn more, stop by any banking center location, call 888-529-5450, or visit www.mycsbin.com. Discover the difference a local bank can make.