Money Management Tips for New Business Owners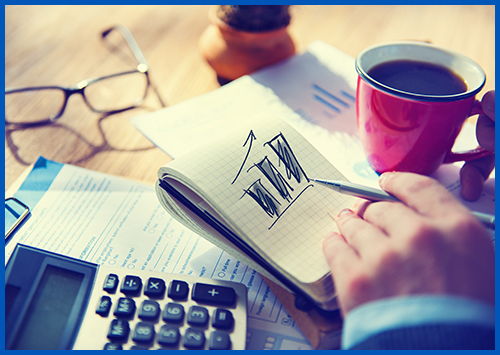 Starting your own business is stressful. In addition to being an expert in your field, you'll need to become an expert about your company's finances. Understanding money management is important, even if you'll be using a bookkeeper to manage your books.
Open Business Accounts
When you complete the paperwork to register your new business, you'll need to open bank accounts dedicated to your new endeavor. Choosing a good financial partner is important – bankers can be a valuable resource for industry knowledge and experience. You'll want to open a checking account, and discuss additional services with your banker. These services might include operating lines of credit; company credit cards; a merchant account that allows you to accept debit/credit payments; and more.
Decide Who Will Keep the Books
You might decide to keep your own books (especially if you're comfortable with accounting software) or hire a bookkeeper/accountant to handle your finances. If hiring a bookkeeper, the right partner can make all the difference for your business – they can handle the financial details while you do the hard work of growing your company. Even if you decide to handle the books yourself, you might want to hire a bookkeeper or accountant to help with financial statements and tax returns.
Determine Your Cash Flow Budget
This is similar to your household budget – it helps to ensure that you manage your expenses and revenues proactively. There are a few key areas to consider when determining your budget, including sales and revenue forecasts, anticipated inflows such as cash receivables, and anticipated expenses such as cost of goods sold/debt repayments/operating expenses.
When thinking about your cash flows, keep in mind factors that will have the most impact on your business. Is this a cyclical business? (i.e. If you're opening a landscaping business, what will happen to your receivables during the winter months?) Be sure to integrate these factors into your cash flow budget.
The Bottom Line
Yes, starting a new business can be stressful, but the time and effort you put in at the beginning can make your overall path much smoother. If you'd like additional information, please contact a Citizens State Bank Relationship Manager.
The views, information, or opinions expressed in this article are solely those of the author and do not necessarily represent the views of Citizens State Bank and its affiliates, and Citizens State Bank is not responsible for and does not verify the accuracy of any information contained in this article or items hyperlinked within. This is for informational purposes and is no way intended to provide legal advice.