Moving Your Checking Account
Perhaps you've wanted to switch banks for a while, but the idea of moving your checking account is as appealing as a voluntary tax audit. We promise you – it isn't that difficult, and only involves a few simple steps.
First, figure out where you want to open your new account. I recommend Citizens State Bank. 😀
But seriously, what don't you like about your current bank? Is it an issue of fees, customer service, or perhaps you're moving? What features are important to you – free checking, convenient location, e-Services, community support? Ask your friends and family what they like/dislike about their bank. Call or visit your finalists and ask why you should bank there.
Once you've chosen a bank, open your new account. Most banks make it fairly easy to open an account online or in person. All you'll typically need is a photo id and minimum opening deposit. If you plan to use e-Services, like online or mobile banking, set those up as well. (If you open your account in person, most personal bankers will set these up for you if you'd like.) Even if you rarely use checks, it might be a good idea to place a small order – just in case.
Learn how to close an account at your current bank. While you're not ready to do this yet, it's good to know what will be required in order to avoid an unwelcome surprise down the road.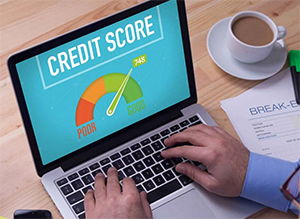 Will moving your checking account change your credit score?
Many people avoid switching their checking account because they're afraid it will lower their credit score. Deposit account information is not reported to the credit bureaus, so there's no need to worry!

Second, make a list of automatic transactions at your old bank.
Be sure to include direct deposits, automatic payments, and ACH transactions. (This form is useful, even if you're not opening an account with us.) It can be helpful to look at your past year's statements, just to ensure you don't overlook anything.
It's likely the first step you'll want to take is contacting your HR Department, Social Security Administration, etc to change any direct deposits. Be sure to have your new account information – specifically your new bank's routing number and your account number – on hand to make this step easy.
As for changing automatic payments, most billers make it easy to make updates to your account online. If you're not comfortable with that, call the company directly to make changes. (You'll find their contact information on your bill or on their website.) Be sure to make note of when the change will be effective – you don't want your old account to be overdrawn during the transition.
Begin to transition your bill payments to your new account.
Set up vendors in online banking as you receive your bills that aren't paid automatically. Be sure to deposit enough money in your new account to cover the cost of the bills you pay. It's a good idea to keep some money in your old account in case you overlook an automatic payment or there's a glitch with your direct deposit. (Make sure you don't incur any minimum balance fees in your old account.)
Finally, close your old account.
Some recommend keeping your old account open for a month or more to be on the safe side, but personally, I would close the old account after making sure my direct deposit went through. The Consumer Financial Protection Bureau recommends getting a written document confirming that an account has been closed.
And that's it. Like most things, the anticipation is 100x worse than the actual process. If you have any questions, don't hesitate to ask a banker - they're always available and willing to help.

The views, information, or opinions expressed in this article are solely those of the author and do not necessarily represent the views of Citizens State Bank and its affiliates, and Citizens State Bank is not responsible for and does not verify the accuracy of any information contained in this article or items hyperlinked within. This is for informational purposes and is no way intended to provide legal advice.