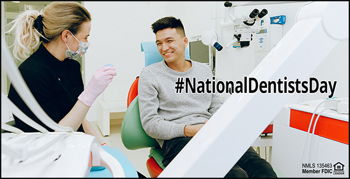 National Dentists Day
Visiting them might make us anxious, but they play a crucial part in keeping us healthy. That's why we celebrate National Dentist's Day - to show our appreciation for the doctors who keep our pearly whites in top shape and protect our health.
Fun Dentist/Dental Facts:
Did you know that dentists ranked number one for top jobs in 2015?
Dentists recommend that a toothbrush be kept at least six 6 feet away from a toilet to avoid airborne particles resulting from the flush.
The University of Maryland School of Dentistry is the world's first dental college. It was established in 1840 by Drs. Horace H. Hayden and Chapin A. Harris.
The average American spends 38.5 total days brushing their teeth over a lifetime.
The most valuable tooth belonged to Sir Isaac Newton. In 1816 one of his teeth was sold in London for $3,633, or in today's terms $35,700. The tooth was set in a ring!
In 1866, Lucy Beaman Hobbs became the first licensed female dentist.
Your teeth are as unique as your fingerprints!
Your smile is the first facial feature noticed by half of the people you come in contact with daily.