Nicole Murphy Named Chief People Officer
FOR IMMEDIATE RELEASE

Contact: Leah Driver, 765-529-5450 ext 7749, ldriver@mycsbin.com

Nicole Murphy Hired as Chief People Officer
NEW CASTLE, IN, August 10, 2021: Citizens State Bank is pleased to announce Nicole Murphy, MBA, SHRM-CP, has joined the Bank as Chief People Officer. In this position, she oversees all aspects of the Bank's talent strategy, including recruitment and retention, employee experience, leadership development, rewards, diversity and inclusion. She is also tasked with ensuring we fulfill our commitments to workplace culture.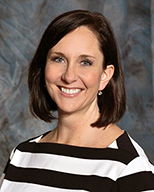 Ms. Murphy earned a B.S. in Business Administration and Marketing from the University of Evansville and her MBA, Business Administration and Management, from Indiana Wesleyan University. Her experience leading HR teams and working in Career Development bring a fresh perspective to the position. Outside of work, you'll likely find her spending time with her family - husband Corey and their three sons Eli, Evan, and Max.
"I am honored to be a part of an organization that truly values it's employees and thrilled to be serving in the role as Chief People Officer," said Nicole. Kirby Purciful, President of Citizens State Bank, added "We're excited to have Nicole join Citizens State Bank, especially at a time when we have a unique opportunity to re-imagine the workplace."
About Citizens State Bank
Citizens State Bank is a fourth-generation family-owned community bank and has offered a full range of financial services in central Indiana since 1873. Our mission is to help our clients, co-workers, and communities succeed. Decisions are made locally. Deposits made with us stay in our communities, becoming funds for the loans and donations that fuel local economic development. To learn more, visit www.mycsbin.com.