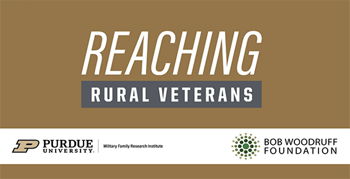 Date: Feb 26, 2022
Time: 8:30 to 10:00 am
Location: Knightstown
Learn More
Reaching Rural Veterans - Feb
Hosted by The Military Family Research Institute at Purdue University, an organization that conducts research on issues that affect military families, and works to shape policies, programs and practices that improve their well-being.
Are you a veteran looking to connect with services close to home? Reaching Rural Veterans is a monthly program available in select Indiana counties. Join us at Knightstown Community Food Pantry at Knightstown United Methodist church to learn about medical and behavioral health support, education and other resources, including VA benefits.
Reaching Rural Veterans in Henry County (Knightstown, Indiana) takes place on the fourth Saturday of every month.