Shop Locally for the Holidays
FOR IMMEDIATE RELEASE
Contact: Leah Driver, 765-529-5450 ext. 7149
Shop Locally for the Holidays
Planning to spread some cheer this holiday season? Pick up one-of-a-kind creations from your locally-owned small businesses. Shopping locally is the gift that keeps on giving.
Did you know that for every $100 you spend at locally owned businesses, $68 stays in the community, compared to just $43 when you shop at a national chain? Or that small businesses create two out of three new U.S. jobs annually? So, when you shop locally, you're not only putting your hard-earned dollars to work in your community; you're supporting the engines that fuel our national economy.
Independent, community-serving businesses typically consume less land, carry more locally made products, and create less traffic and air pollution, so it's good for the environment too.
And locally sourced goods and services are often crafted by local artisans and are exclusive to our region, making for memorable gift-giving during the holidays and beyond.
If you prefer your gifts without a shiny bow, gift an "experience" to watch a local band, dine at a family-run restaurant, or attend a holiday event with friends and family. Celebrations outside the home, including holiday entertaining and socializing, represent roughly 40 percent of total holiday spending and are a great way to support small businesses and boost the local economy.
Post a picture of your favorite locally sourced product or make a short video to showcase a local event and share it on social media as inspiration for others.
Better yet, continue the movement beyond the holidays. Show support for entrepreneurs and small businesses throughout the year by shopping locally and encouraging your friends and neighbors to do the same.

About Citizens State Bank
Citizens State Bank is locally-owned and has offered a full range of financial services in Central Indiana since 1873. Our mission is to help our clients, co-workers, and communities succeed. We are dedicated bankers who live and invest in the communities we serve. To learn more, stop by one of our banking center locations, call 888-529-5450, or visit www.mycsbin.com.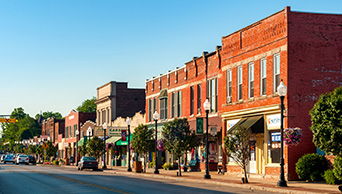 Need help finding locally-owned businesses?
Check out the resources listed below. If you know of others, please tell us about them.

Indiana Originals - Brings together the innovators, idealists, community builders, and business owners that create healthier, stronger communities and more jobs in Indiana. They exist to facilitate greater use of local services, art, food, and more. Every business on IndianaOriginals.com is locally owned and operated, headquartered here, and not part of an out-of-state franchise or chain. When you see the badge, you know you are supporting local.
Indy With Kids - 20 Women-Owned Businesses You Should Know
Market Wagon - You can shop all your local farmer & artisan offerings with no sign-up and no commitments.
Facebook Marketplace - While Marketplace lists a lot of "one-offs," you can find local artisan and business listings as well.
Yelp - Put in the search terms "Locally Owned Businesses" along with the city you're interested in to see their lists.