Small Business Banking Basics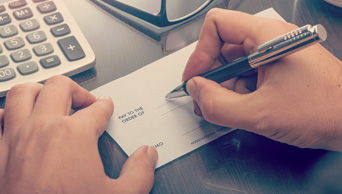 Your checking account is the foundation of your company's finances. Finding the right account and developing a solid banking relationship will help you manage your everyday expenses and cash flow, which is key to your business success.
If you're just starting out, you might wonder if a business checking account is even necessary - can't you just wait to open one when you're bigger/earning more money/in business for a certain amount of time? While combining your personal and business checking accounts might sound less complicated, it's important to keep the two separate. A business account will allow you to track your business income and expenses, which in turn will make filing taxes easier. In addition, separate accounts can help protect your personal assets and credit rating from potential business-related losses. Finally, business accounts often offer specialized services that make it easier for your company to grow.
There are many factors to consider when choosing your bank, based on both where you are your today and your projected growth. A few factors to consider:

Convenience - both now and in the future.
Fees and restrictions.
Availability of services that facilitate business growth, like merchant services, treasury management products, and business loans/lines of credit.
Knowledge, experience, and personality of the banking staff. (Your banker can be an invaluable source of information.)
After choosing a bank, it's time to open your account. Business checking accounts differ from personal accounts, especially in regards to the following:
Cash Deposit Limits. Many accounts limit the amount of currency that can be deposited in a billing cycle, and begin to charge fees once that amount is reached. If your business handles a lot of cash, look for an account with higher, or no, cash deposit limits.
Transaction Limits. Some banks limit the number of transactions that can be handled at no charge during a statement cycle. (Transactions normally include deposits, paid items, and electronic transactions like ACH payments.) If you exceed the limit, you might be charged for each additional transaction.
Earnings credits. If your business has a high volume of transactions and maintains a higher balance, your bank might evaluate your needs and apply an earnings credit which can offset fees. If your business falls into this category, be sure to discuss options with your banker or relationship manager.
After your account is open, you'll need to monitor your spending and keep track of your finances. Traditional e-services, like online and mobile banking, are great tools. You should also discuss treasury management tools with your banker, and determine if any would be useful to you.
The bottom line is that choosing the right bank, banker, and checking account is important. It pays to do your homework, and to take advantage of the knowledge and experience your banker can offer.
The views, information, or opinions expressed in this article are solely those of the author and do not necessarily represent the views of Citizens State Bank and its affiliates, and Citizens State Bank is not responsible for and does not verify the accuracy of any information contained in this article or items hyperlinked within. This is for informational purposes and is no way intended to provide legal advice.