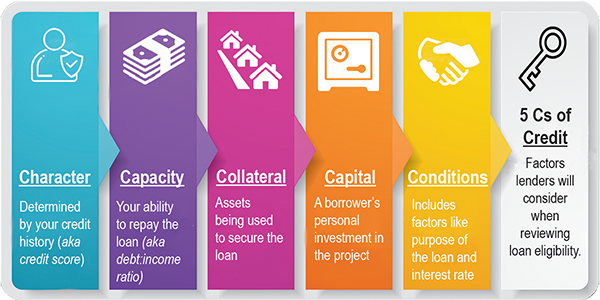 While every lender has their own "formula," almost all use some form of The 5 C's of Credit as a basic guideline to evaluate a potential borrower. Business owners, or anyone applying for a loan, should understand these categories to improve their odds of having their loan applications approved.
Character
While your credit score and history are important factors in having a loan approved, lenders also consider a borrower's trustworthiness and credibility. In addition to providing high-quality references to your potential lender, it's important to be honest and upfront in your interactions with the bank.

Capacity
This shows if you have sufficient cash flow to repay the loan. Make sure your financials are in order, and that you know exactly how you plan to use the funds and how you plan to repay the loan.


Collateral
If you're unable to pay your loan based on your business success, do you have assets that could be used instead?
Capital
Potential lenders will want to know that you're invested in the business - both personally and financially. Banks are more likely to lend to someone who's invested some of their own money, so it's important to recognize there's more to getting a loan than showing your passion for the project.

Conditions
What are the economic, industry, and environmental conditions that might affect your business? Do you have a competitive advantage? What kind of relationships do you have with your vendors and customers? It's important to know your market, and to be ready to explain your plan(s) for success, both short- and long-term.
All of these factors play a role in your odds of being approved for a loan. It's important to find a lending partner you trust, and who has the knowledge and experience to help you navigate The 5 C's.

Do you have questions about The 5 C's of Credit?
One of our Relationship Managers will be happy to answer any questions you might have.
Customer Care: 888-529-5450
Monday - Friday 8:30 am - 5:00 pm

The views, information, or opinions expressed in this article are solely those of the author and do not necessarily represent the views of Citizens State Bank and its affiliates, and Citizens State Bank is not responsible for and does not verify the accuracy of any information contained in this article or items hyperlinked within. This is for informational purposes and is no way intended to provide legal advice.