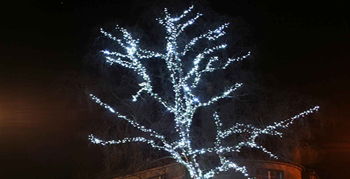 Date: Nov 26 - Dec 31, 2021
Time:
Location: New Castle
Learn More
The Magic RainTree
Start a new holiday tradition by visiting the Magic RainTree, located in Your Park at the corner of State Road 3 and Highway 38. The Magic RainTree is modeled after the Magic Tree in Missouri, which started in 1995 from originator Will Treelighter (his real name is Randy Fletcher). He created the tree for enjoyment, excitement, and peacefulness. The tree reflects what you bring to it - some see a tree covered in lights, while others see beauty, inspiration, and magic. A great photo spot - be sure to tag @nchcchamber and use #LIGHTUPNCHC.