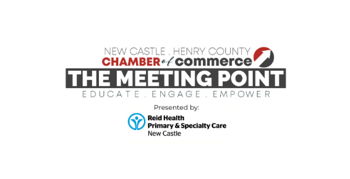 Date: Jan 26, 2023
Time: 8:00 am to 2:00 pm
Location: New Castle
Learn More
The Meeting Point
The Meeting Point is a business conference centered around you: the working professional, the team leader, the executive assistant, the entrepreneur, the "go to" person at the office. Our panel of speakers and sessions will truly educate you, engage you, and empower you. You will have the option to attend any sessions that you wish as well as walk through the vendor trade show. A light breakfast, plenty of coffee all day and lunch is included. We can't wait to see you there!
Speakers:

Greg Zirkle Ball State University
Oi Lin Cheung Indiana University
Ren'a Wagner IvyTech
Jon Madison Defur Voran
Justin Dunmeyer Citizens State Bank
Bastion Crider Hayes, Copenhaver, Crider, Harvey
Cindi Kiner HR Connection
Justin Helman Focal Point Business Coaching
Christy Ragel Wholeheart Comm.
Erika Gillman Edward Jones
Garrett Beam McGowan Insurance Group
Chris Wilkey
Carrie Barrett NC Main Street
Special Guest Speaker Corey Murphy Economic Development Corp.
Open to public. $30.00 per ticket - All sessions, coffee, drinks, light breakfast, and lunch. Special pricing for large groups in registration