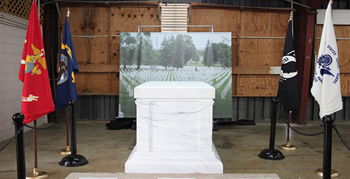 Date: Oct 24, 2021
Time: 1:00 to 6:00 pm
Location: New Castle
LEARN MORE
Tomb of the Unknown Soldier Replica Day 2
The Tomb of the Unknown Soldier is Arlington National Cemetery's most iconic memorial. The memorial honors soldiers from World War I, World War II, the Korean War and Viet Nam War. The Tomb has served as a place of mourning and a site for reflection on military service.
The weekend's activities will begin with a parade starting at 10 a.m. on Oct. 23. The parade will go down Broad Street, starting at 11th Street and turning onto 15th Street. Following the parade, an opening ceremony will feature Matt Kreeb, 510th Sentinel Tomb Guard. Kreeb led 2,553 public ceremonies and numerous public and private briefings during his service. He is a survivor of a rare brain cancer and is the only person to guard the Tomb with a brain tumor.
The community is invited to visit the tomb replica on Saturday, Oct. 23, from 11 a.m. to 7 p.m. and on Sunday, Oct. 24, from 1 p.m. to 6 p.m. The tomb will be located at The Arts Park and Pavilion, 218 S. 15th Street, New Castle. There will also be live presentations, videos, and veteran information groups for visitors to experience.