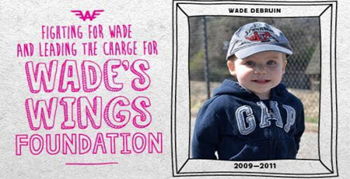 Date: Nov 10, 2019
Time: 1:30 to 2:30 pm
Location: Fishers
LEARN MORE
Wade's Day Workout
Join us at CrossFit Fishers to raise money and throw down in a WOD in the name of fighting Pediatric Neuroblastoma and supporting Wade's Army, a nonprofit 501(c)3 leading the charge against the pediatric cancer, neuroblastoma.
With every $35 donation you give, you will receive a 2019 Wade's Army Uniform (your choice unisex t-shirt, Tank top or kids shirt) with custom Wade's Army artwork! You can go to the link below to donate to our team page or "Join" our team and create you own fundraising page to earn your own uniform.
Deadline for receiving your Wade's Army uniform is October, 15th.