What is a Digital Wallet?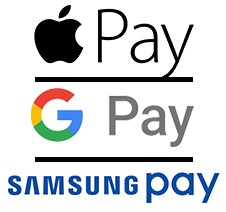 A digital wallet is a way to carry your debit/credit card information in a digital form on your mobile device. Instead of using your plastic card to make a purchase, you pay with your smartphone, tablet, or smartwatch. The app does not store personal information like your name or account number.
There are a few important benefits to using a digital wallet in place of a payment card. The first is convenience. Simply hold your device near a compatible payment terminal and authorize the purchase, or make purchases using the app when shopping on your device. You don't even need to have your payment card with you.
Transactions made using your digital wallet are safer than transactions made using your payment card. You don't scan your card, so there's no need to worry about skimmers. Your name, card number, and PIN aren't shared with the merchant, meaning that information can't be stolen by a third party.
So how do you set up a digital wallet? Simply install an app on your smartphone – three of the most common are Apple Pay, Google Pay, and Samsung Pay – then follow the directions. (Be sure you're not using a public Wi-Fi network during set up.) CSB supports all three apps on both our Visa© debit and credit cards. If you have any questions, don't hesitate to ask.
The views, information, or opinions expressed in this article are solely those of the author and do not necessarily represent the views of Citizens State Bank and its affiliates, and Citizens State Bank is not responsible for and does not verify the accuracy of any information contained in this article or items hyperlinked within. This is for informational purposes and is no way intended to provide legal advice.