Using an app, you're able to access your accounts and perform transactions. It's available everywhere, anytime you want to use it. Common services include viewing your balances, making transfers, making loan payments, and depositing checks. In addition to the basics, mobile apps allow you to pay bills, control your debit card, view account statements, send money to your kids, and more.
Mobile Deposits
One of the most time saving functions of mobile banking is making mobile check deposits. Just snap pics of the front and back of a signed paper check through the app, and if approved, the money will be added to your account. Just follow the onscreen instructions, and you'll see immediately if the funds are credited to your account.
Transfers & Loan Payments
Securely transferring funds between accounts – including loan accounts – is quick and easy. Have a few extra bucks in checking? Transfer it to savings. Need to make your mortgage payment? Transfer funds from a deposit account.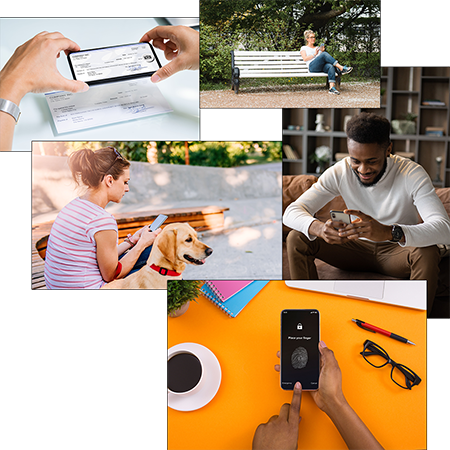 Viewing Your Statement & Transactions

If you've signed up for e-Statements, you can see them on your device – and even better, you can track your transactions without waiting for your monthly statement. Wake up in the middle of the night wondering if you remembered to pay the electric bill? Grab your phone and look it up.
Pay Bills – and People
Today's apps allow you to pay bills directly from your mobile device. View your payment history and set up one time or recurring payments. Never carry cash? No problem – use your app to pay your sitter, settle your part of the tab, or send money to your college student.
Digital Card Controls
Have you misplaced your card, or was it stolen? Turn it off until you find it – or use the app to report it and order a new card. Want to ensure your HSA card is only used for medical expenses? Define your merchant types. Prevent your card from being used for internet transactions, from making purchases over a certain amount – you're in control.
Safety & Security
Financial institutions work tirelessly to keep their digital banking options as safe and secure as possible. Features like two-factor authentication and fingerprint or facial scans ensure you're the only one who can access your accounts. Most provide information to help you protect yourself, and if you have any questions they're happy to help.
The Bottom Line – Mobile banking is a powerful tool that makes managing your finances easier and more convenient. Almost all financial institutions offer mobile banking services – take a look at your bank's website to learn more. (Of course we think our app's one of the best – check it out for yourself.)
The views, information, or opinions expressed in this article are solely those of the author and do not necessarily represent the views of Citizens State Bank and its affiliates, and Citizens State Bank is not responsible for and does not verify the accuracy of any information contained in this article or items hyperlinked within. This is for informational purposes and is no way intended to provide legal advice.