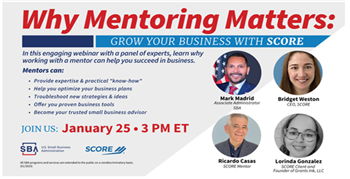 Why Mentoring Matters
In recognition of National Mentoring Month, join the SBA and SCORE to learn how working with a mentor can help you succeed in business. Speakers include:
Mark Madrid, Associate Administrator, Office of Entrepreneurial Development, SBA
Bridget Weston, CEO, SCORE
Ricardo Casas, Mentor, SCORE
Lorinda Gonzalez, SCORE client and Founder of Grants Ink, LLC
Learn from real mentors what advice working with them looks like and hear from clients and how it helped them achieve their dreams!
If you're considering finding a mentor, learn who we recommend you should have at your strategic table.