Organization
July 3, 1873
Citizens State Bank was organized on July 3, 1873, just three days after new banking laws were enacted in Indiana.
First President
John R. Millikan became the first president, starting an association with the Millikan family that would span five generations and nearly 100 years – a fitting start, since Citizens State Bank remains a family business to this day.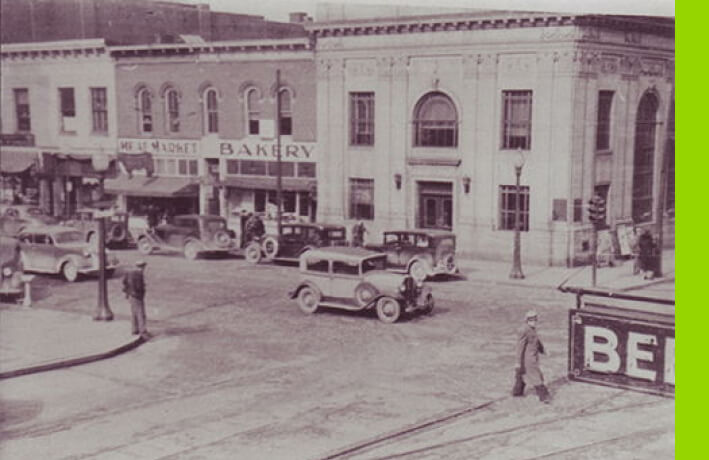 In Hartford City, Rural Loan & Savings Association opened for business on March 20, 1920. Raymond M. Maddox was hired to manage the Association in 1924. A year prior, Citizens State Bank celebrated its 50th anniversary by moving to its current location at the corner of Main and Broad Streets in New Castle.
During the difficult days of the Great Depression, Citizens State Bank used its financially sound position to acquire Central Trust & Savings and other small county banks, making Citizens State Bank an early pioneer in the concept of "branch banking."
Citizens State Bank pioneered the convenience of drive-up windows at its main New Castle office and new offices as they opened. Meanwhile, Mr. Maddox was successfully guiding Rural Loan & Savings through the Depression, World War II and the post-war building boom.
Raymond Maddox became the majority shareholder of Rural Loan & Savings during his 34-year tenure and brought his two sons, John R. Maddox and James B. Maddox into the business. Upon Raymond's untimely death in 1958, the older son, John, succeeded him as president.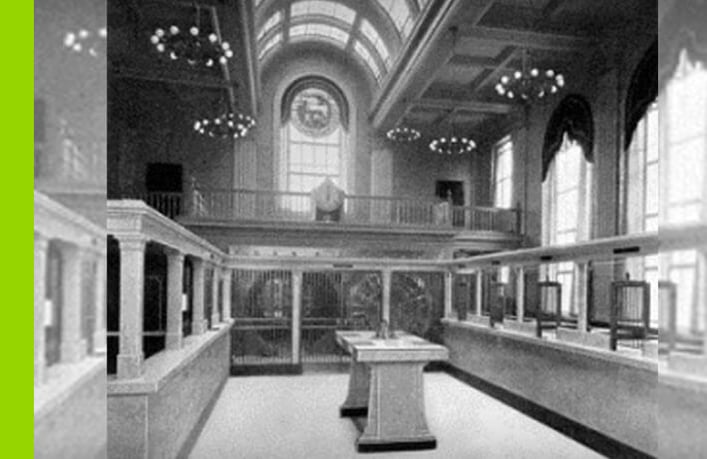 Maddox Brothers
The Maddox brothers formed another financial institution, First National Bank of Hartford City, in 1965. The new entity was managed by younger brother James.

In 1967, Mertie Rempel, owner of The Bank of Montpelier (est. 1939), approached John about purchasing the bank. The deal was finalized quickly and The Bank of Montpelier joined the Maddox banking interests. Those interests were soon to expand again.

In 1968, members of the Millikan family – the primary shareholders of Citizens State Bank – became interested in selling. On September 9, 1968, the Maddox family purchased Citizens State Bank and James Maddox moved from Hartford City to New Castle to become president.
In 1973, after 100 years in business, Citizens State Bank expanded its main office in downtown New Castle. In the 1980s, Citizens State Bank began opening offices outside of Henry County.
Rural changed its name in 1980 to City Savings & Loan Association to reflect its broader market. When additional opportunities were perceived by changing the charter to "savings bank" status in 1984, the change was made and the institution became City Savings Bank.
The third generation of the Maddox family became involved in the various family banks. John R. Maddox, Jr. became president of City Savings Bank in 1984, the same year Gary J. Maddox, son of James Maddox, joined Citizens State Bank.
In 1986, with an eye towards bringing their institutions together, The Bank of Montpelier was renamed Pacesetter Bank of Montpelier and First National Bank was renamed Pacesetter Bank of Hartford City. The three Blackford County banks – including their branches in Grant, Jay and Randolph Counties – were merged in 1997, becoming Pacesetter Bank.
Growth

Growth continued for the banks in the form of additional branches, improved technology, and consistently sound financial condition.

Dan Maddox, son of John Maddox Jr., become the fourth generation actively involved in the operation of the Bank in 2008 as Chief Operating Officer and became the President in 2016. The strong family influence ensures the mission of Citizens State Bank will continue.

Pacesetter Bank and Citizens State Bank were formally merged in 2013, and now operate as a single entity, Citizens State Bank.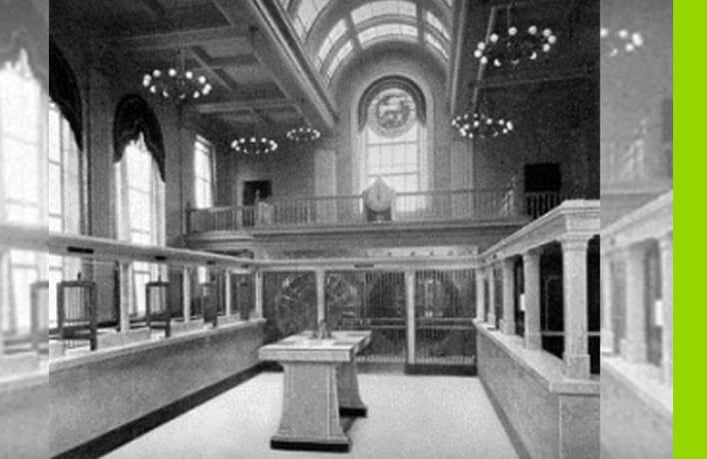 The mission of Citizens State Bank is to help our clients, co-workers, and
communities succeed.
We're proud to live our mission each and every day.