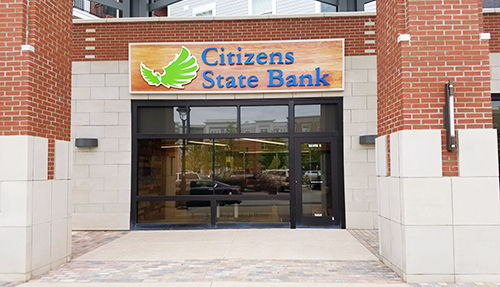 Visit Our Fishers Location
Meet your team, leave a review, and see the power of partnering with a local bank firsthand.
(317) 578-2935
9 Municipal Drive, Suite 5
(Nickel Plate District)
Fishers, IN 46038
Lobby Hours
M-F 9:00am - 5:00pm

Our Fishers, Indiana Area Services
Living or running a business in Fishers, IN comes with amazing opportunities. Whether you're looking for a bank closer to home, opening up a new business in the Nickel Plate District, or preparing to make that next big business purchase, our team of banking experts is here and ready to serve you.
24-Hour Walk Up ATM
On-the-go access to your cash when you need it
Night Drop
Make your money deposits after regular banking hours
Notary Service
Our team can be your impartial witness on important documentation
Personal Banking
We have you covered from checking and savings to loans and support
Learn More>>
Business Banking
Services and resources designed to help you build, grow, and manage your business
Learn More>>

Get to Know Your Fishers, IN Team
Our banking center in Fishers is in the heart of it all and is the perfect place to open an account or speak with one of our banking experts. We strive to make your in-person and online banking experience hassle-free.

Fishers, IN is a Great Place to Live and Run a Business
We know you need a trusted banking partner to help you navigate it. The City of Fishers continues to grow and boasts amazing amenities throughout the Nickel Plate District for both families and business. We strategically placed our Municipal Drive banking center so that you have immediate access to our team and services when you need them most. Plus, we operate an additional 9 locations throughout Central Indiana so that when you're on the go, we're still within easy reach.
"We chose CSB because they were a small, local bank that understood our needs. We talked to several large banks before deciding on CSB and, although it may sound like a cliché, the big banks just didn't understand our community or the value of our investment. The customer service at all levels has been excellent!"
"I choose to do business with Citizen State Bank because It's essential for every small or big business to have a bank beside them not counter against them and Citizen State Bank is that partner."
"I have appreciated the close working relationship with Citizens State Bank. I especially appreciated Elliott Somers reaching out to suggest we apply for a PPP loan when money became available. Elliott helped through the entire process with the loan application. While many businesses failed to obtain PPP funding, Citizens allowed us to receive our loan with the first round."