New Castle - Broad Street Banking Center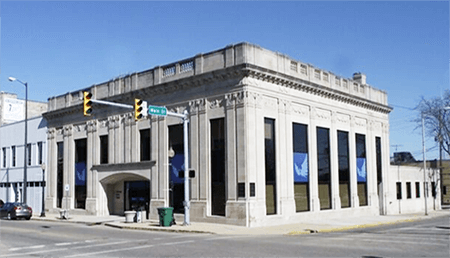 Visit Our Main Office Headquarters
Meet our team, leave a review, and see the power of partnering with a local bank firsthand.
(765) 529-5450
1238 Broad Street | PO Box C
New Castle, IN 47362
Hours
Lobby:
M -F 9:00 - 5:00
Drive-Up:
M - F 8:30 - 5:00
Sa 9:00 - Noon

Our New Castle, Indiana Area Services
Living or running a business in New Castle comes with amazing opportunities. Whether you're looking for a local community bank, opening a new business, or preparing to make that next big business purchase, our team of banking experts is here and ready to serve you.
Drive-Up ATM
On-the-go access to your cash when you need it
Night Drop
Make your money deposits after regular banking hours
Safe Deposit Box
Protect your valuables in a safe deposit box
Notary Service
Our team can be your impartial witness on important documentation
Personal Banking
We have you covered from checking and savings to loans and support
Learn More>>
Business Banking
Services and resources designed to help you build, grow, and manage your business
Learn More>>
Associate Commercial Loan Officer
P: 765-521-6545 Ext. 7850
M: 765-465-0015
New Castle - Broad Street
New Castle - Raintree
Regional Mortgage Loan Officer
P: 765-521-6545 Ext. 7741
NMLS: 483249
New Castle - Broad Street
New Castle - Raintree
Rushville
Knightstown
P: 765-529-5450 Ext. 7863
NMLS: 475562
New Castle - Broad Street
Treasury Management Officer
P: 765-529-5450 Ext. 7851
New Castle - Broad Street
New Castle - Raintree
Union City
Rushville
Knightstown
Hartford City - Walnut Street


New Castle, IN is a Great Place to Live and Run a Business
We know you need a trusted banking partner to help you navigate it. New Castle continues to grow and offers amenities for both families and business. Plus, we operate additional locations throughout Central Indiana so that when you're on the go, we're still within easy reach.
"Great bank. I enjoy doing business with them."
"Setting up a bank account was so easy! It took about 15-20 minutes. I received a lot of information that I could understand and I even got a free gift!!! I would definitely recommend getting an account here."
"Received notary services. I was working in town and needed a document notarized. They were friendly, happy, and willing to help me out. I was in and out really quick. Great experience."