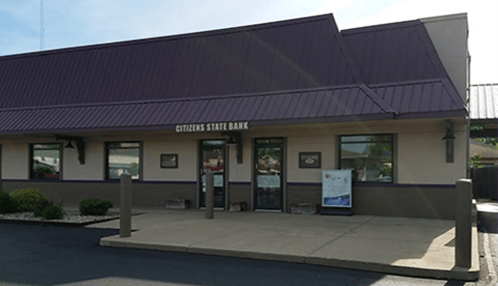 Visit Our Pendleton Office
Meet our team, leave a review, and see the power of partnering with a local bank firsthand.
(765) 778-7762
129 S Pendleton Ave
Pendleton, IN 46064
Hours
Lobby:
M -F 9:00 - 5:00 | Sa 9:00 - Noon
Drive-Up:
M - F 8:30 - 5:00 | Sa 9:00 - Noon
Our Pendleton Services
Living or running a business in Pendleton comes with amazing opportunities. Whether you're looking for a community bank, opening a new business, or preparing to make that next big business purchase, our team of banking experts is here and ready to serve you.
Drive-Up ATM
On-the-go access to your cash when you need it
Night Drop
Make your money deposits after regular banking hours
Notary Service
Our team can be your impartial witness on important documentation
Safe Deposit Box
Protect your valuables in a safe deposit box
We have you covered from checking and savings to loans and support
Services and resources designed to help you build, grow, and manage your business
Meet Your Team
This is your team - a group of folks who've chosen to work at a community bank because they value the ability to develop client relationships. #TeamCSB - Pendleton understands the area because it's their home. If you're interested in working with an experienced banker who understands the local community, schedule a conversation today.
P: 765-778-7762 Ext. 7742
M: 317-498-2961
NMLS: 1062884
Regional Mortgage Loan Officer
P: 317-578-2935 Ext. 7772
M: 317-752-3160
NMLS: 623077
Commercial Loan Officer, Ag Lending Specialist
P: 765-778-7762 Ext. 7736
NMLS: 1112311
Pendleton
Hartford City - Walnut Street
Director of Treasury Management
P: 317-844-5170
M: 317-508-4394

Our Pendleton Clients Say...
"Alexa has been great to work with! She has answered all our questions and helped us with our new accounts. Everyone in the branch is very friendly. I like that I can call and a person at that branch answers the phone!"
"Jon was a great customer service representative and very engaged. CSB is the best!!"
"
Great staff and service. I've used them for the past 4 years and never have had an issue. They are more than happy to help with any questions you may have. Best bank I've used in a long time. The Pendleton staff are the best!"