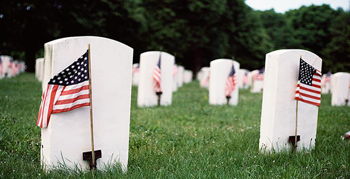 Memorial Day 2022
Following are some activities to help you celebrate Memorial Day:
Wear or display a red poppy. Around Memorial Day, you usually can find Veterans of Foreign Wars (VFW) members selling paper red poppies. Now a widely recognized memorial symbol for soldiers who have died in conflict, the red poppy tradition grew from the World War I poem, "In Flanders Field," by Canadian Lieutenant-Colonel John McCrae. The poem refers to the red poppies that grew over the graves of fallen soldiers in the lines: "In Flanders fields the poppies blow; Between the crosses, row by row."
Pause at 3 p.m. In accordance with the National Moment of Remembrance resolution, pause from whatever you're doing to reflect on the sacrifices made by so many to provide freedom to all.
Read the original Decoration Day proclamation. Less than 500 words in length, Logan's proclamation is a sobering call-to-duty for all U.S. citizens.
Watch the National Memorial Day Concert. Broadcast live from the U.S. Capitol Building's West Lawn, the National Memorial Day Concert has become a memorial service for the entire nation. Featuring the National Symphony Orchestra as well as military bands and choral groups, the concert is a moving tribute to the fallen and their families.

Display the U.S. flag. Do you have an American flag for your home? Since Memorial Day is a day of national mourning, fly the flag at half-staff from sunrise until noon to commemorate those who have died. The flag is raised back to full staff at 12 p.m. to honor living veterans.
Visit a national cemetery or memorial. Attend the cemetery's Memorial Day ceremony or visit the graves of fallen soldiers and place flowers. Many cemeteries have memorials and pathways commemorating soldiers and veterans.

Attend a parade. There are countless Memorial Day parades of all sizes in communities across the country. Don red, white and blue clothes, bring a small flag to wave, and join in the tribute. (Please don't throw the flag on the ground when the parade is over.)

Commit your time. Research agencies in your area that work with veterans or active military service members and their families – the local VA hospital, USO center or homeless shelter, for example – and commit to volunteer your time on a regular basis.
Make a financial donation. Many veterans agencies and national organizations are always in need of financial support. Charity Navigator offers a list of reputable charities that provide wounded troops services, military social services and military family support.
Pray for the fallen and our nation. Attend a religious service at your church or spend some time praying for the souls of those who gave the ultimate sacrifice, for their family members, for our country's future and for peace in the world.