The more times you use your debit card, the more times you're entered to win,
so start using your card today!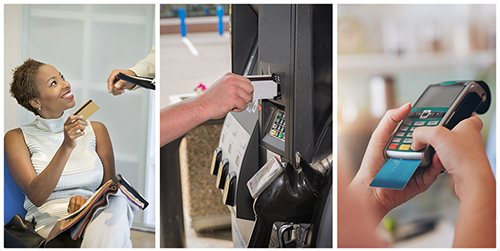 Every time you use a Citizens State Bank debit card during the month of August, you're entered into a drawing for a $250 VISA Gift Card! No matter what you want to buy, the Citizens State Bank debit card makes shopping easy - in stores, online, at the pump, in your digital wallet ~ all are easy to use and all count as an entry!*
Using your debit card is the fastest, easiest way to access funds in your checking account with no recurring fees or interest charges.

Receive Built-In Fraud Protection
Your CSB VISA Debit provides continuous fraud monitoring.1 Using your debit card is more secure than carrying cash or a checkbook.

Mobile Debit Card Controls
An easy to use feature that allows you to define how your debit card(s) can be used. Don't want your card to be used online? Turn off eCommerce. Want to make sure your HSA card is only used for health-related spending? Block the other categories. You're in complete control.
Convenient
Use everywhere VISA is accepted - retail stores, gas stations, online, and digital wallets.

Easily Monitor Your Spending
Transactions are deducted from your checking account - no monthly bills or interest payments. Use online or mobile banking for easy tracking and Mobile Debit Card Controls to set up alerts and spending limits.
Don't have a card?
Open a free checking account to get your debit card today! Have an account but lost your card? Contact Customer Care and they'll order a new one for you. (You can also use Mobile Debit Card Controls to order a new card!)

*No purchase necessary. Must be 18 years or older and a legal IN resident. Each debit card transaction (excludes ATM transactions) from 8/2/2020 - 8/31/2020 is an entry into a drawing for one of four $250 Visa gift cards to be held by 9/10/2020. Business debit card transactions do not qualify. Winners will be notified by phone within 3 business days of the drawing, and winners will have 10 days to claim their prize. If we are unable to reach the winner by phone, we will attempt to contact him/her in writing or by email. In the event the winner is unable to be reached with the information we have on file and/or does not respond within 10 days, the original winner will forfeit all prizes and a new winner will be selected. The odds of winning depend on the number of entries received. Employees of CSB and immediate family are not eligible. If you wish to enter without making a debit card transaction, please send a 3x5 card with your name/address/phone to: Citizens State Bank Marketing Department; PO Box C; New Castle, IN 47362. Entry must be received between 8/1/2020 and 8/31/2020. Winners may receive a 1099 showing the value of their prizes. The drawing is subject to all federal, state, and local laws and regulations. Citizens State Bank's decisions are final in all matters relating to the drawing. By participating in the drawing, entrants agree to be bound by these official rules.

1For fraud protection monitoring, please make sure the contact information we have for you is correct. If you notice fraudulent activity, or if your card is lost or stolen, it's important to contact us immediately to report it.